COOKIESTOOLS™ – COOKIE PRESS KIT
Don't Have Time To Bake Cookies?
With the help of our easy-to-use Cookie Press Kit, you will like to bake the cookies and you will find that is a good way to stress relief and entertain yourselves.
You can prepare authentic homemade cookies and any other preparation with or without gluten.
This small CookiesTools™ appliance is essential to make all your cookies easily.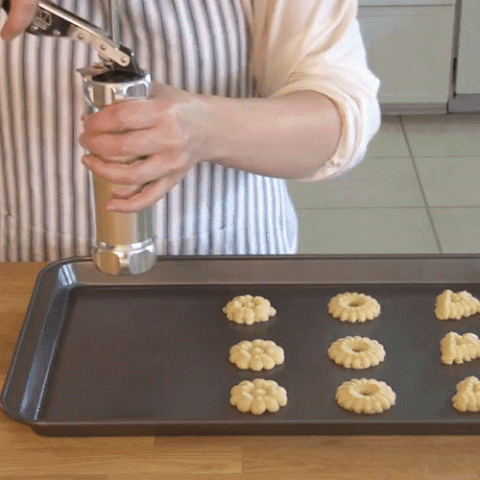 CookiesTools™ has experienced a new Cookie Press Kit that is truly comfortable. Its ergonomic handle feels great in any hand and the easy-squeeze action releases the perfectly shaped dough. Enables you to quickly and easily produce a variety of attractively shaped biscuits.
Cookie Press Kit is made of high-quality food-grade aluminum alloy (BPA-free). Tasteless, non-toxic, and durable. The biscuits will stick to the baking tray already perfectly portioned and will just need to be baked. The biscuits can be decorated as desired with jam, chocolate chips, or ground hazelnuts.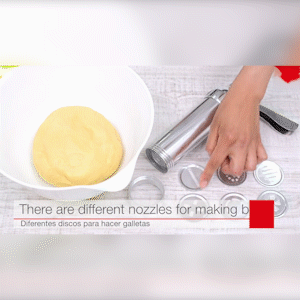 FEATURES
Versatile
With 20 patterns and 4 icing tips, You can make oodles of different cookies for any occasion, using the various molds and use them for decorating bowls, desserts, sandwiches, canapes, donuts and more.
Quick, painless & delicious
With the Cookie Press Kit, you can create the cutest cookies and more simply by choosing your favorite disc, loading the dough and cranking it out into perfect shapes every time.
Choose your pleasure
With Cookie Press Kit, the cookie decorating and confectionery possibilities are endless. You'll be baking like a champ even if you've never used a cookie mold before.
Design
The handle and crank conform to your hand, making this cookie machine a breeze to use even if you suffer from arthritis.
Built to last
Its metal construction means you won't have parts breaking on you halfway through your session. And when it's time to clean, the cookie gun comes apart in a snap and can be soaked in soapy water, then put someplace dry till the mood should strike you again.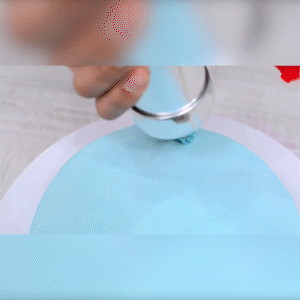 Easy to use
Pour the dough into the cookie press gun, and then cover the discs and screw the nut, force the air out. Lastly, you can press your cookies.
Best gift
Our Cookie Press Kit is a great gift for baking lovers to make cookies, biscuits, and macaroons for parties, desserts, snacks, Christmas, Thanksgiving Day, New Year. 
SPECIFICATIONS
100% Brand New and High Quality!
Color: As shown in the picture
Material: Metal
Size: approx L*W 20.5*5.4CM/8.2*2.16INCH
PACKAGE INCLUDES
1x CookiesTools™ – Cookie Press Machine
20x CookiesTools™ – Decorative Stencil Discs
4x CookiesTools™ – Icing Tips